Disclosure: This post contains affiliate links which means we may get paid a commission if you make a qualifying purchase through our website. Using our link is at no additional cost to you.
2019 Kew Gardens 50p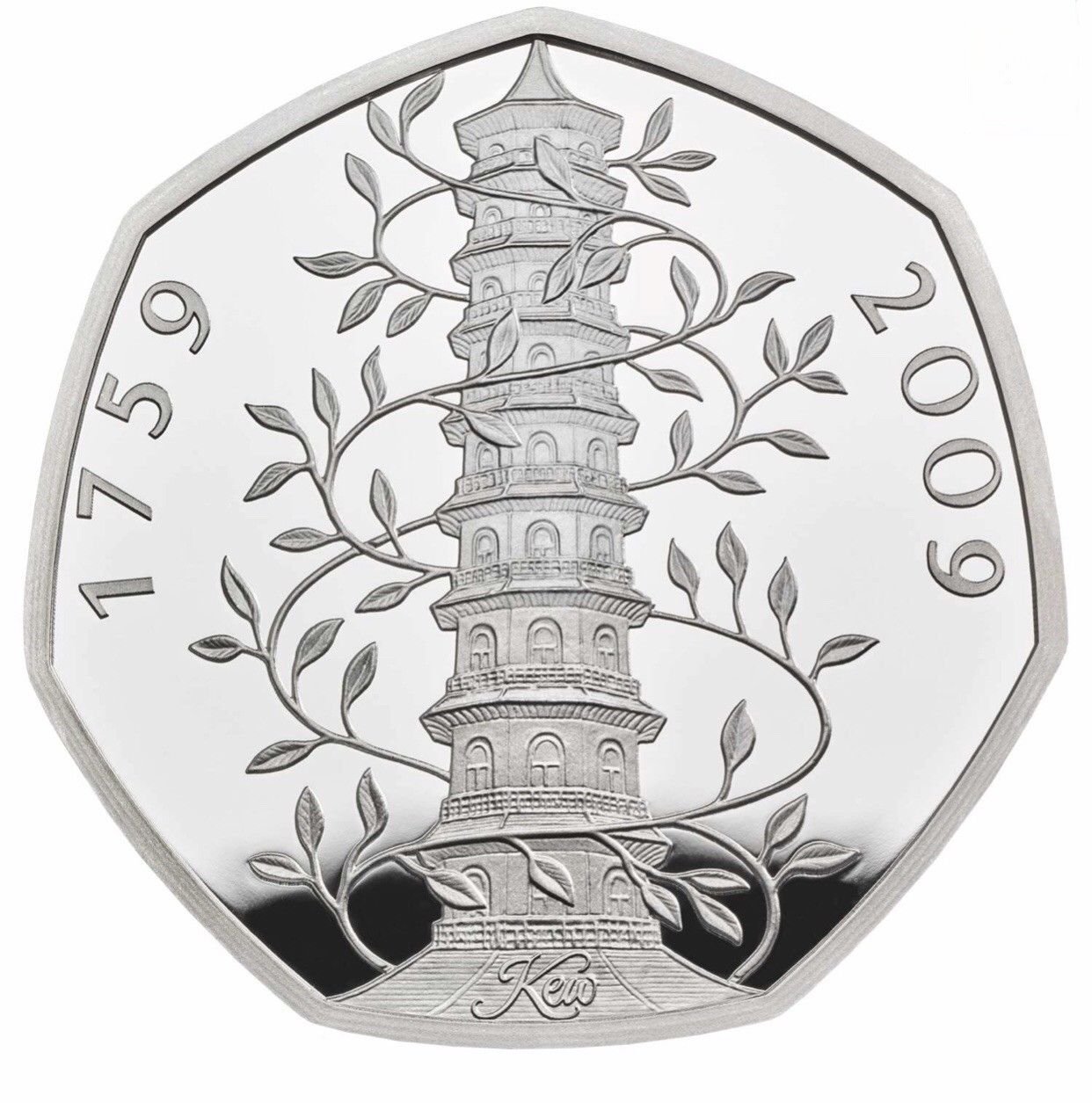 This is YOUR chance to own the Kew Gardens 50p (2019 re-issue)
50 Years of the 50p BUNC Coin Set
The 50 Years of the 50p was released as a Brilliant Uncirculated (BUNC) coin set by The Royal Mint on the 25th March 2019
The five-coin set features re-issues of some of the most iconic 50 pence pieces ever released during the past 50 years, including the ever-sought-after Kew Gardens 50p with the 2019 anniversary date.
When this set was released in January 2019 Celebrating 50 Years of the 50p 2019 as a Proof Coin Set of British Culture with limited edition presentations in Silver Proof and Gold Proof, they all sold out in a few hours.
The set includes:
New 50 Pence Brilliant Uncirculated Coin
| | |
| --- | --- |
| Denomination | 50p |
| Maximum Coin Mintage | Unlimited |
| Alloy | Cupro-nickel |
| Weight | 8.00g |
| Diameter | 27.30mm |
| Reverse Designer | Christopher Ironside |
| Obverse Designer | Jody Clark |
| Quality | Brilliant Uncirculated |
| Year | 2019 |
Kew Gardens 50p Brilliant Uncirculated Coin
| | |
| --- | --- |
| Denomination | 50p |
| Maximum Coin Mintage | Unlimited |
| Alloy | Cupro-nickel |
| Weight | 8.00g |
| Diameter | 27.30mm |
| Reverse Designer | Christopher Le Brun |
| Obverse Designer | Jody Clark |
| Quality | Brilliant Uncirculated |
| Year | 2019 |
Scouting 50p Brilliant Uncirculated Coin
| | |
| --- | --- |
| Denomination | 50p |
| Maximum Coin Mintage | Unlimited |
| Alloy | Cupro-nickel |
| Weight | 8.00g |
| Diameter | 27.30mm |
| Reverse Designer | Kerry Davies |
| Obverse Designer | Jody Clark |
| Quality | Brilliant Uncirculated |
| Year | 2019 |
Girl Guides 50p Brilliant Uncirculated Coin
| | |
| --- | --- |
| Denomination | 50p |
| Maximum Coin Mintage | Unlimited |
| Alloy | Cupro-nickel |
| Weight | 8.00g |
| Diameter | 27.30mm |
| Reverse Designer | Jonathan Evans & Donna Hainan |
| Obverse Designer | Jody Clark |
| Quality | Brilliant Uncirculated |
| Year | 2019 |
Roger Bannister 50p Brilliant Uncirculated Coin
| | |
| --- | --- |
| Denomination | 50p |
| Maximum Coin Mintage | Unlimited |
| Alloy | Cupro-nickel |
| Weight | 8.00g |
| Diameter | 27.30mm |
| Reverse Designer | James Butler |
| Obverse Designer | Jody Clark |
| Quality | Brilliant Uncirculated |
| Year | 2019 |