Benjamin Britten 50p Coin
The Benjamin Britten 50p was issued in 2013 by The Royal Mint to celebrate the 100th Anniversary (1913 to 2013) of the birth of this famous British composer.
Note there are different variants of this coin so educate yourself here before you buy or sell one.
Benjamin Britten Coins For Sale on eBay
Benjamin Britten Circulated Coin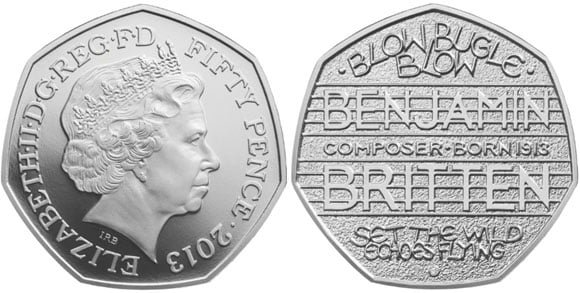 This is the circulated coin (found in your pocket change). It is the first UK coin to show the date (2013) and denomination (FIFTY PENCE) on the same side of the coin – the obverse (the back).
The coin features the uplifting words BLOW BUGLE BLOW and SET THE WILD ECHOES FLYING along with the composer's name BENJAMIN BRITTEN in a stave.
The Benjamin Britten 50p coins are being held by private British Coin Collectors so the availability to the public is reducing.
Benjamin Britten BU Coin Pack
The Brilliant Uncirculated (BU) version, in a sealed coin pack.
These are selling on eBay for around £65!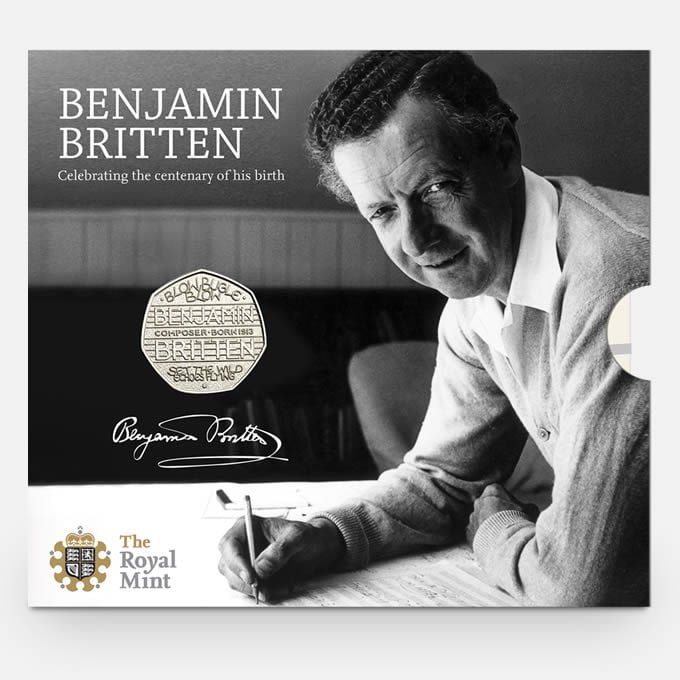 Brilliant Uncirculated Coin Folder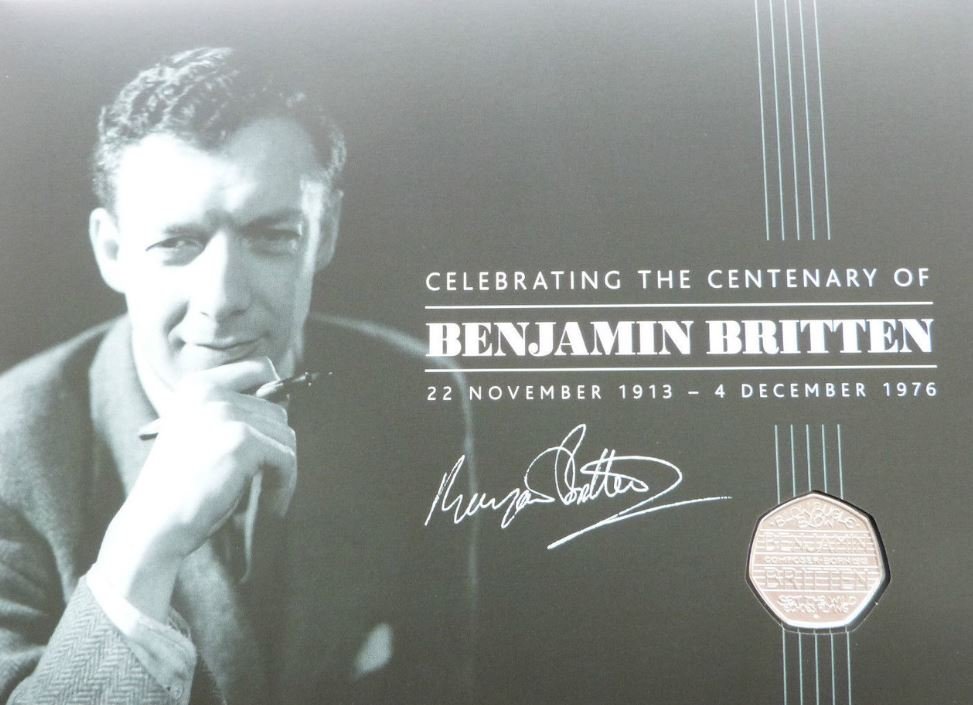 The Royal Mint also released a special Limited Issue Brilliant Uncirculated Benjamin Britten 50p Fifty Pence Coin Folder.
First Day Cover Coin & Stamp
Produced by The Royal Mint and Royal Mail a first day cover with the 50p coin and Benjamin Britten Stamp.
The Royal Mint and Royal Mail Coin and Stamp cover – £14.95 on the day of release.
Benjamin Britten Silver Proof Coin
The rare silver-proof version of this coin had an original selling price of £90 and came in a special presentation box with a certificate.
Only 1,000 were issued to mark the 100th birthday of the British composer.
From completed listings we have seen on eBay, they may now fetch as much as £350.
The Benjamin Britten Coin Details
The Royal Mint Coin Specification

Issued
2013
Diameter
27.30mm
Weight
8.00g
Thickness
1.78mm
Composition
Cupro-nickel (75% copper, 25% nickel)
Obverse Designer
Portrait of Her Majesty the Queen 2013 – Ian Rank-Broadley FRBS (IRB)
Reverse Designer
Tom Phillips CBE RA
Edge
Plain
Mintage
5,300,000
How many Benjamin Britten 50p coins were minted?
The Royal Mint mintage records show they issued 5.3 million standard versions.
Is the Benjamin Britten 50p rare?
With a mintage of 5,300,000, the coin isn't as rare a coin as first thought.
The rarest UK 50p coin is the 2009 Kew Gardens 50p with a mintage of only 210,000 coins in circulation.
What is the value of the Benjamin Britten 50p?
We just bought one in great condition on ebay.co.uk for £5 including postage however they are reportedly selling on eBay for thousands of pounds.
Approximate values:
| | |
| --- | --- |
| Circulated average condition: | £0.50 to £0.99 |
| Circulated excellent condition: | £0.99 to £1.25 |
| Uncirculated: | £5 to £8 |
Rare Benjamin Britten Coins
With all the hype in the UK press around "rare" 50p coin values, some eBay sales suggest that people have paid a crazy amount for a common cupro-nickel coin.
Here are some examples we found in our research:
This one is reported to have sold for £2,951

We can only hope the buyer understood what they were getting as it appears to be a circulated coin, not the silver proof version.
Benjamin Britten 50p Coin Scam? – there have been articles in the UK news calling sales of this coin for thousands of pounds, a scam.
See an example here: Scammers on eBay are trying to flog 2013 Benjamin Britten 50p coins for more than £6,000
To check recent eBay sales or sold prices of other coins, use our free eBay Coin Price Checker