Disclosure: This post contains affiliate links which means we may get paid a commission if you make a qualifying purchase through our website. Using our link is at no additional cost to you.
Suffragette 50p Coin
This coin was issued in 2003 by The Royal Mint as a fifty pence coin to celebrate the 100th anniversary of the foundation of the Women's Social and Political Union more commonly known as "The Suffragettes".
Also known as the "Give Women The Vote" fifty pence.
2003 Suffragette 50 Pence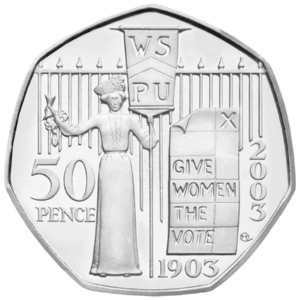 The coin depicts the figure of a Suffragette chained to railings and holding a banner on which appear the letters WSPU, to the right a ballot paper marked with a cross and the words GIVE WOMEN THE VOTE, to the left the value 50 PENCE, and below and to the far right, the Anniversary dates 1903 and 2003.
The fifty pence coins available included Gold Proof, Silver Proof and Silver Piedfort Proof Coins for you to add to your collection. The mint also released a 50p Brilliant Uncirculated (BU) Coin and 50p Coin for general circulation.
Suffragette 50p Coin Specifications

Issued
2003
Diameter
27.30mm
Weight
8.00g
Thickness
1.78mm
Composition
Cupro-nickel (75% copper, 25% nickel)
Obverse Designer
Portrait of Her Majesty the Queen 2003 – Ian Rank-Broadley FRBS
Reverse Designer
Mary Milner Dickens
Edge
Plain
Mintage
3,124,030
How many Suffragette 50p Coins were made?
The Royal Mint quoted Mintage Figures for this coin are:
| Metal | Description | Mintage | Max Mintage |
| --- | --- | --- | --- |
| Gold | 50p Suffragette Movement | 942 | 1,000 |
| Silver | 50p Suffragette Movement | 6,267 | 15,000 |
| Silver | 50p Piedfort Suffragette Movement | 6,795 | 7,500 |
| Base | 50p Suffragette Movement BU | 9,582 | |
| Base | 50p Suffragette Movement general circulation | 3,124,030 | |
---
The source of the Mintage information is from The Royal Mint website for the Suffragettes 50p Coin. "Piedfort" means "double-thickness".
---
How much is the Suffragette 50p worth?
From our own manual research of completed sales on ebay.co.uk we see circulated Suffragette 50p coins selling for around £2 including postage. See our list of 50p coin values for latest price updates on all fifty pence coins in circulation.
Please do your own research before investing in any coins, prices and demand can change at any time.
Votes For Women 50p video guide