Disclosure: This post contains affiliate links which means we may get paid a commission if you make a qualifying purchase through our website. Using our link is at no additional cost to you.
Free Games
Free games from The Royal Mint.
Peter Rabbit Game
How To Play
Help Peter Rabbit to catch the radishes and earn points.
Keep your eyes peeled for the special golden radishes to earn EXTRA points!
But be careful not to catch the falling sticks or you'll lose points!
Radish
1 point
Golden Radish
5 points
Stick
-1 point
Use the LEFT and RIGHT ARROW KEYS to move Peter Rabbit
Or move your MOUSE to move the Left or Right.
When the bar at the bottom of the screen is full, you've caught enough radishes to go to the next level.
There are 5 levels in total to complete!
Submit your score be to in with the chance of winning The Peter Rabbit 50p Silver Proof coin
Build a Snowman
After the Snowman 50p coins, even if it's not snowing outside you can build a snowman with this fun free game.
Dinosaur Game
Inspired by the Dinosaur 50p coins, dig to find buried dinosaur treasure with this free Dinosaur Game.
The Royal Mint Archeological Dig site contains buried Dinosaur treasure!
Use your mouse – press and hold the left mouse button (use the arrows at the edge on the screen or your cursor keys to move around the dig site) to dig away the earth and uncover buried items.
Don't worry you can leave the dig at any time, your progress is saved as you go, your excavations will still be there when you return.
Free Activities
Free activities from The Royal Mint
Build your own Paddington Bear scrapbook
Paddington at some of his favourite locations, but something's missing… we need you to add some colour!
Download the free Paddington colouring pages and colour them in.
There are 4 to choose from:
Share your Paddington 50p coins on social media with the hashtag #PaddingtonsCoins
Wallace & Gromit FREE Activity Packs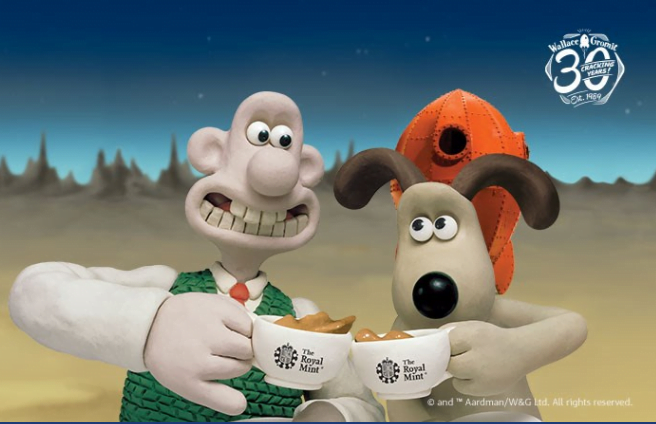 The world of Wallace and Gromit is full of fun and colour. What shade will you choose for inventor, Wallace, and his faithful dog, Gromit?
The free Wallace & Gromit Activity packs include:
Wallace & Gromit 50p colouring page
2 additional free colouring pages
Make a rocket!
Coin Denominations Maths Pack
Learn UK coins and coin counting with this free maths pack.