Paddington 50p (2 Coin Set)

Paddington at the Station 50p
Buy Now

Paddington at the Palace 50p
Buy Now
The Gruffalo 50p Coins?
Gruffalo 50p coins - are the rumours true?
We have it on good authority that the The Royal Mint is planning to release new coins for The Gruffalo monster book stories.
The book was released on the 23rd March 1999, so the coins will be to celebrate the 20th Anniversary!
We anticipate that this will follow their 2018 coin releases to include a 50p coin, Silver Proof and Gold Proof versions. This has yet to be confirmed.
We will update our Gruffalo 50p coin page with more details as they are released!
Snowman 50p
The Snowman 50 pence coin makes perfect Christmas present for 2018, get one now while stocks last!
This coin will not be released into general circulation and is a coin collector's item only.
Over 1,000 coins sold in the past 24 hours.
---
The Snowman 50p
Still available directly from The Royal Mint, this beautifully designed Brilliant Uncirculated Coin was released in November 2018 to celebrate the 40th Anniversary of The Snowman™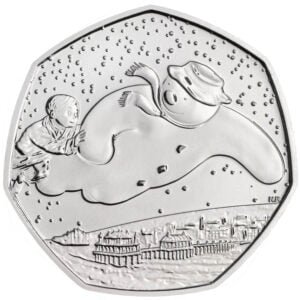 ---
Brilliant Uncirculated Coins
If you are interested in collecting coins then our recommendation is to spend a little extra on Brilliant Uncirculated coins, rather than the coins people sell that they find in their pocket change. Brilliant Uncirculated is often shorted to simply "BU" by coin collectors.
You may even find these are CHEAPER than some circulated coins for sale as they tend to be sold by Coin Dealers who work on volume sales rather than trying to sell 1 coin for an inflated price.
BU coins, are produced by the mint to a finer finish than a regular coin plus have never been into general circulation so do not show the usual dents and scratches that a pocket change coin does.
We have also seen BU coins on eBay sold from sealed bags of 20 coins. These may have some signs of knocking into the other coins on the bag, so check with the eBay seller directly on condition of what is being offered.
50p coins
The most sought after British 50p coins by Coin Collectors include:
Beatrix Potter Coins
Beatrix Potter 50p coins for sale from The Royal Mint since 2016 are selling like hot cakes especially the rarer Jemima Puddle-Duck and Mrs Tiggy Winkle.
We recommend you spend a little extra and get BU (Brilliant Uncirculated) quality coins rather than those from general circulation / pocket change.
There are eBay sellers specialising in selling these coins individually or as Beatrix Potter coin sets.
Beatrix Potter Coins released to date are:
BU = Brilliant Uncirculated. Has never been in circulation and produced to a finer finish.
Beatrix Potter Silver Proof and Gold Proof Coin versions are Limited Editions.
Coin Albums
Other collectable coins include the Beatrix Potter colour coins with decal stickers.
These are printed and added by eBay sellers and not The Royal Mint unless it is the official Silver Proof Edition.
Rare Coins on Ebay
Use our quick search links to help you find rare coins on ebay.co.uk
Ebay has built special pages dedicated to UK coin listings due to the huge popularity of the Great British Coin Hunt coin collecting. Check them out:
2009 50p Coin, 2011 50p Coin, D Day 50p Coin, Old 50p Coin, WWF 50p Coin, Kew Gardens 50p, Olympic 50p, RARE 50p Coin
Other rare coin denominations listed by ebay include RARE Two Pound Coins, RARE 20P Coin, RARE 1 Pound Coin, Undated 20P Coin, 2 Pound Coin, Very RARE Coins.
eBay coin categories include British Coins / Decimal Coinage (c.1971-Now) / 50p / £1 / £2 / £5 / coin sets.
Do your research before buying coins on eBay. Sellers may put RARE in their listing, even for common coins.
Rare 50p Coins
Use our 50p value coin price tracker to see British coin market values.
Join the Great British Coin Hunt by reading our article on rare 50p coins in the UK.
There are however some eBay listings with what we consider dubious selling prices due to buyer ignorance of which coins are rare or valuable.
Also watch the video on 50p error coins.
Which coins are rare?
Of course how rare a coin is forms part of the value along with condition.
You may find some sales listing stating that coins are "rare" but do your homework before taking this at face value.
The rarity of the coin is not the only factor when establishing it's selling price, condition is a major element so grade the coin for yourself before you commit to purchase.
Not all coins marked "rare" on sales listing are worth money beyond their face value.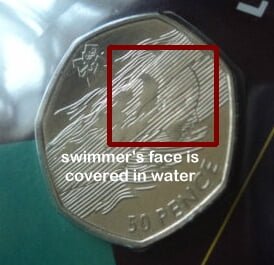 The Aquatics 50p is a rare coin that is fetching prices on Ebay up to £1,000. It was produced for the 2012 London Olympic Games but most importantly, there are 2 versions of this coin.
The 50 pence coin from the Aquatic sports showing water passing over a swimmer's face is very rare. This version of the Aquatics 50p circulated number was only 600 before the design was changed to show a clearly visible face.
On the other hand, the re-designed version with the swimmer's face clearly visible is quite common with a circulation number of 2,179,000 it IS NOT rare and typically sells for only a few pounds.
We have also heard that there are non-genuine versions in circulation bit we have no direct evidence.
There have been 2 recent sales on eBay of this coin fetching almost £1,000 after a bidding frenzy to secure this rarest of Olympic coins. Check our Rare Swimming Coin page for full details.
One of the most rare 50p coins in UK circulation is a 50 pence piece issued to mark the 250th anniversary of the Royal Botanical Gardens. Issued in 2009, only 210,000 of these commemorative 50p coins were minted and they now fetch up to £100 on Ebay depending upon condition. One in three people in the UK should have one of these rare 50p coins in their pocket and probably not even realise it's worth, so go and check your piggy bank now! Check our listing page for current Ebay sales listings for the Kew Gardens 50P
See the article from The Royal Mint, Could you have the UK's rarest coin in your pocket?
The design shows the famous Chinese Pagoda building that sits in the grounds of Kew gardens, encircled by a vine and accompanied by the dates "1759" and "2009". If you look closely you will also see the word "KEW" at the base of the Pagoda.
Which are the rare 50p Olympic coins?
To celebrate the 2012 Olympic Games hosted in London, The Royal Mint issued 29 fifty pence collectable coins of different designs, with some produced in smaller numbers than others. A full set normally commands around £35 while some of the more desirable or rare designs such as football, wheelchair rugby, wrestling and tennis can command £3 or £4. See the latest London Olympics 2012 50p Coins for sale or check our new rare 50p Olympic coins price guide.
Other Rare Coins
50p coins are the most common however there are many other examples of rare British coins to be found in the British Isles. It is always worth checking The Royal Mint Coin Shop before you start bidding for rare coins on eBay that have been in circulation (and therefore marked or damaged). We have seen coins selling for more on eBay than you can buy them for new!
| Coin | Description | Date | Mintage | Est. Value |
| --- | --- | --- | --- | --- |
| | Aquatics 50p Only 600 of the first design were produced where the swimmer's face is hidden by flowing water. The new design shows the face and is not worth any more than the other 2012 Olympic 50p coins. | 2012 | 600 | £900 |
| | Northern Ireland Commonwealth Games £2 second rarest coin design in circulation with a mintage of only 485,000 | 2002 | 485,500 | £25 |
| | EU Single Market 50p Since Brexit was announced this 1992 / 1993 EC Presidency 50p coin has shot up in value, doubling in a few months. | 1992 | 109,000 | £50 |
| | Kew Gardens 50p released to celebrate the 250th anniversary of the foundation of Kew Gardens. | 2009 | 210,000 | £60 |
| | Undated 20p a number of 20p coins were incorrectly minted in 2008 resulting in their having no date! | 2008 | 250,000 | £70 |
| | 1983 NEW PENCE 2p This is rare ONLY if it says NEW PENCE and carries the 1983 date. Coins printed post 1983 were supposed to have the TWO PENCE stamp. Were only issued in sets with other coins, not in general circulation. BU example is showing sold on eBay for £1,350 | 1983 | 0 | £1,350 |
*
values are for guidance only and from recent eBay sales listings
Please do your own research before buying or selling a coin.
Rare £2 Coin
A Royal Mint error coin has been identified in 2017 on the Britannia £2 coins minted in 2015. Known as the Inverted Effigy error coin. See our news article: Inverted Effigy £2 Britannia Error Coin
Other rare coins come from unfortunate minting errors. Another famous one is the rare £2 coin issued to commemorate Guy Fawkes.
Instead of "Remember, Remember the Fifth of November" on the edge, some were minted saying "Pemember, Pemember the Fifth of November".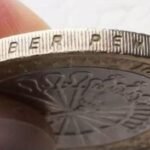 Accordingly this makes it now one of the rarest coins in the UK and is known as a Rare £2 Error Coin.
This Guy Fawkes £2 coin was released in 2005 to commemorate the 400th anniversary of the gun powder plot to blow up the Houses of Parliament.
These rare £2 coins have recently been selling for an average of £5 on eBay, with a high of £9 and a low of £3. Not much over face value but condition is a factor.
Click Pemember Pemember Coins for current Ebay sales listings for this rare £2 coin.
Another rare £2 coin from 2013 is the London Underground 150th Anniversary Commemorative £2 coins, one featuring a train and the other the Underground roundel.
Dateless 20p rare coin
In 2008 when The Royal Mint re-designed the 20 pence piece, they decided to switch the date from the back of the coin to the front. However, an error at the Mint mismatched the old and new designs and between 50,000 and 200,000 coins were produced with no date on and put into circulation before the mistake was spotted. This rare 20p coin can now sell for up to £100 in mint condition.
Coin Collecting
UK coins provides information for the British Numismatist on sales of all collectible UK coins including legal tender coins in circulation, roman coins, pre-decimal coins, commemorative coins new coins and collectible coins, some issued directly by The Royal Mint. We also list Gold coins and Silver coins. We list brilliant uncirculated coins BU, bullion, rare coinage and proof sets of numismatic value. Old British coins and new.
There are an estimated 28.9 billion UK coins in circulation!
Are British coins worth money?
Coin values are quite difficult to establish so you will have to do some research to get current values of your British coin collection. It is a good idea to catalog your coin collection which you can do with a Coin Collector's PC Software Application or using Microsoft Excel. To get the coin values, there are coin books you can buy with private dealers price list. It is always better to have more than one source for price reference so buy more than 1 book and check the coin auction prices on sites like eBay and Amazon UK.
How to start collecting rare coins?
You can start collecting rare coins with only a few pounds or if you are lucky, find rare coins worth keeping in your pocket change or kids piggy bank coin jar just by knowing what to look for.
Ebay UK is great online resource for buying coins but do your research before you start spending money, watch a few auctions for coins that interest you so that you get to see the current market rates. Always check the full description details of the sales listings and review the Seller feedback score. Anything described as "rare" where they are offering hundreds for sale over many listings is clearly not so rare!
Coin price guides on our Ebay sales listing pages for particular coins give you an idea what prices we have seen them selling for. These prices are there only as a guide because we do not take any responsibility for your financial gains or losses for coin purchases. Take your time to learn the UK Coin Collecting market, it is rewarding and fun!
When starting your collection it is important to be organised to keep your coins safe and in the best condition possible. There are cheap coin storage options including Coin Albums, Coin Capsules and Plastic Coin Wallets that you can use to store and document your coins. They will tarnish over time if exposed to air so try to keep rare coins in airtight containers. If you bought any in original packaging, keep them out of direct sunlight.
Coin Grading
Coin grading is a means to determine the market value of a rare coin based on how well the coin has been preserved since it was struck at the mint. It may not have been perfect when originally struck, the coin metal itself may not have been well preserved, and most importantly, it may show signs of wear and tear suffered since it was minted by being in currency circulation. If you want mint coins then buy directly from The Royal Mint upon issue or look for sales listings that state "uncirculated condition".
Grading a coin is not an exact science as there is no official grading mean for British collectable coins. There are companies and experienced coin collectors that will grade coins for you for a fee but ideally you should learn through your experience what coins should look like and how to rate them. At the end of the day no 2 coins will be exactly the same unless new so it is a matter of personal opinion if a coin is in good enough condition to add to your collection.
You may also come across some coin collector terms in sales listings, anything less than Fine Condition is probably not worth collecting;
Fine (F) means the coin shows quite a bit of wear (still acceptable on an older coin). The main features, design, date should still be clearly readable.
Very Fine (VF) means has been in light circulation. Some signs of wear
Extremely Fine (EF) means it has been in circulation but the wear signs only show upon close up inspection
Uncirculated (U) means "as new" condition with no circulation degradation but may have discoloured due to poor storage conditions.
Bullion Coins Bullion coins have a similar standard of finish to circulating coins.
Brilliant Uncirculated (BU) means "as new" condition with no circulation degradation and still shiny like a brand new coin from the mint. Also referred to as 'BU', 'B.U.', and 'B.UNC'.
Proof Coin (Proof) Proof Coins means it has been minted to the highest standards of coin craftsmanship using special hand-made dies. This means that there will be no imperfections. The Royal Mint for example creates Proof Coins by hand using a manual process where each coin is slowly struck 6 times to ensure absolute quality of production. Proof coins will probably be in a protective case or presentation box as these coins can cost thousands of pounds and are aimed at the serious coin collector or coin investor.
The coin striking process determines the results of each coin. UK mint coin strike rates:
Bullion - 250 gold bullion coins struck per hour, 3,000 silver bullion coins struck per hour
Brilliant Uncirculated - 100 coins struck per hour, machine fed, struck twice.
Proof - 50 coins struck per hour. Placed in coin press by hand, struck 6 times at low pressure. Manual inspection each time for flaws.
Buying Rare Coins on Ebay
We feature Ebay UK sales listings but encourage you to take care when buying rare coins from any online source.
A few basic safety measures for buying online coins include;
Clear Photographs - if the coin pictures are fuzzy or badly lit, walk away. Don't accept stock photos or coin face outline drawings from The Royal Mint website. Ask to see images of the actual coin for sale.
Heads or Tails? - check both sides of coin in the pictures!
Top Sellers - buy from top sellers with good Ebay seller rating scores
Rating Comments - read recent ratings from previous buyers, some transaction will always go wrong but if there are many complainers walk away
Ebay Shops - people can see on eBay as private individuals or as businesses with their own Ebay shop. A shop is more likely to have a professional approach to sales.
Returns Policy - check the sellers returns policy. Handle the coins with white cotton gloves when you get them to make sure you are not doing any damage handling the coins before you properly inspect them
Coloured Coins - there is a trend to colour in coins, not done in mint production. This may completely devalue the coin and try to hide some flaw in its minting or other damage
Do your homework - spend some time to watch multiple auction listings for the same coin to see current selling prices and buyer demand. This will also help you to spot coins that are poor quality or even fake as you will become familiar with them even if they are a rare coin.
Postage Costs - some eBay sellers charge much more than others for sending you the coin so always compare prices using the coin price + shipping cost
Ask Questions - don't be afraid to ask the seller questions if you are unsure of anything
Check listing titles and descriptions for words like "fake", "copy" , "replica" coin.